AT TDT REALTORS, WE UNDERSTAND THE IMPORTANCE OF SERVING, NOT ONLY OUR CLIENTS, BUT OUR REALTORS® AS WELL. WE ARE COMMITTED TO HELPING OUR REALTORS® ACHIEVE THEIR FULL POTENTIAL. WE TAKE GREAT PRIDE IN SERVING OUR CLIENTS AND AGENTS AND FOSTERING AN ENVIRONMENT OF SUCCESS AND GROWTH. WE ARE MADE UP OF EXPERIENCED, DEDICATED PROFESSIONALS WHO ARE PASSIONATE IN HELPING OUR CLIENTS FIND THEIR NEXT HOME WITH THE ABILITY TO CLOSE DEALS QUICKLY, EFFICIENTLY, AND PROFESSIONALLY.
WE KNOW THAT IN ORDER TO BE SUCCESSFUL, REALTORS® NEED ACCESS TO THE LATEST TECHNOLOGY, SUPPORT, AND RESOURCES. THAT'S WHY WE HAVE INVESTED IN THE CUTTING-EDGE TECHNOLOGY AND PROVIDE OUR AGENTS WITH AN EXTENSIVE NETWORK OF CONTACTS AND RESOURCES. ADDITIONALLY, WE OFFER TRAINING AND SUPPORT TO ENSURE THAT OUR AGENTS HAVE THE SKILLS AND KNOWLEDGE THEY NEED TO SUCCEED IN TODAY'S COMPETITIVE MARKET. WE ALSO UNDERSTAND THE IMPORTANCE OF WORK-LIFE BALANCE AND WE ARE COMMITTED TO HELPING OUR AGENTS FIND A BALANCE BETWEEN THEIR PROFESSIONAL AND PERSONAL LIVES. WE BELIEVE IN TREATING OUR REALTORS AS PARTNERS, AND WE'RE DEDICATED TO HELPING THEM ACHIEVE THEIR GOALS BOTH IN THEIR CAREER AND PERSONAL LIFE.
IF YOU SHARE OUR DEDICATION TO PROVIDING UNPARALLELED SERVICE TO OUR CLIENTS AND ARE LOOKING FOR A BROKERAGE THAT EMPOWERS AND ENCOURAGES YOU, WE WOULD LOVE THE OPPORTUNITY TO MEET AND PROVE TO YOU HOW WE CAN CONTRIBUTE TO YOUR CAREER SUCCESS. WE LOOK FORWARD TO MEETING!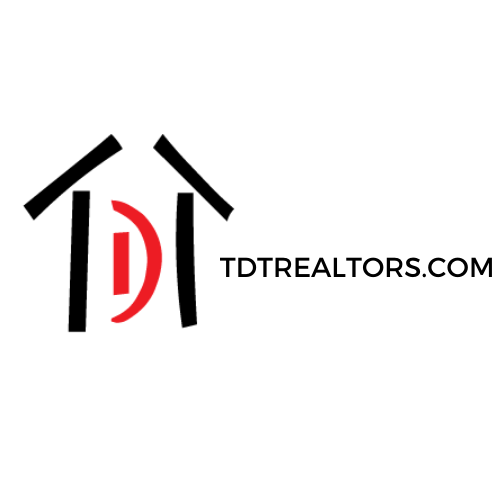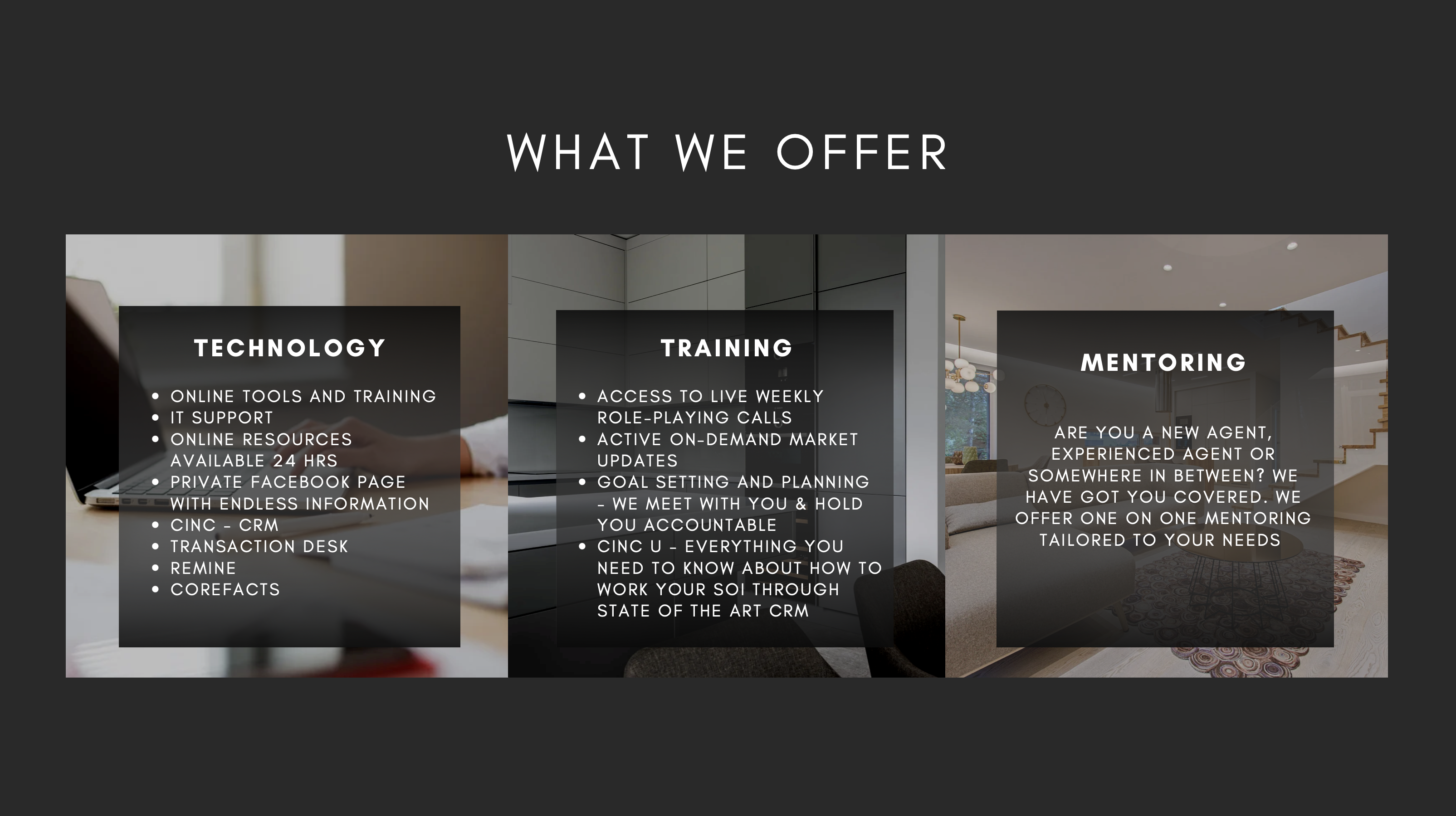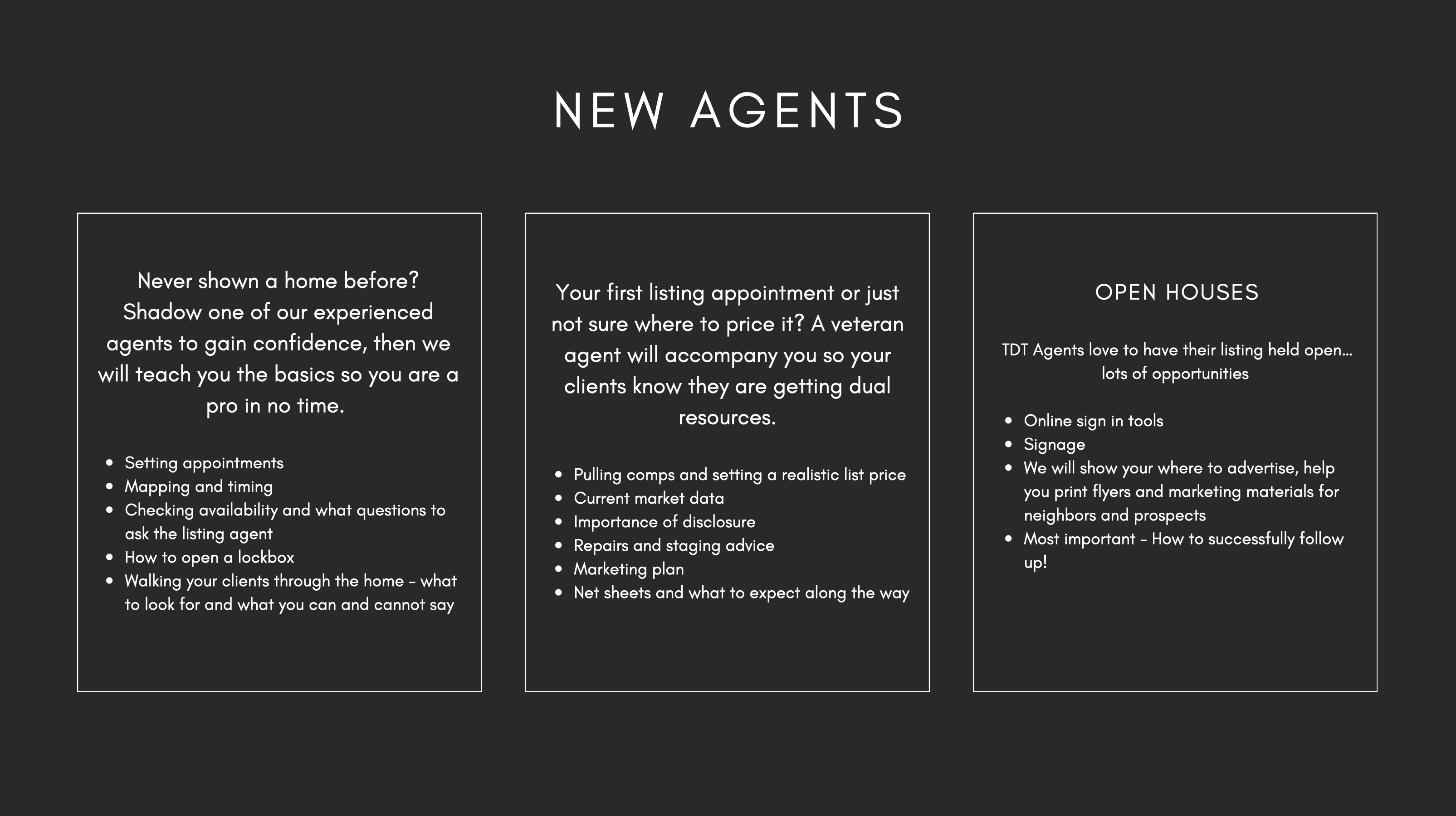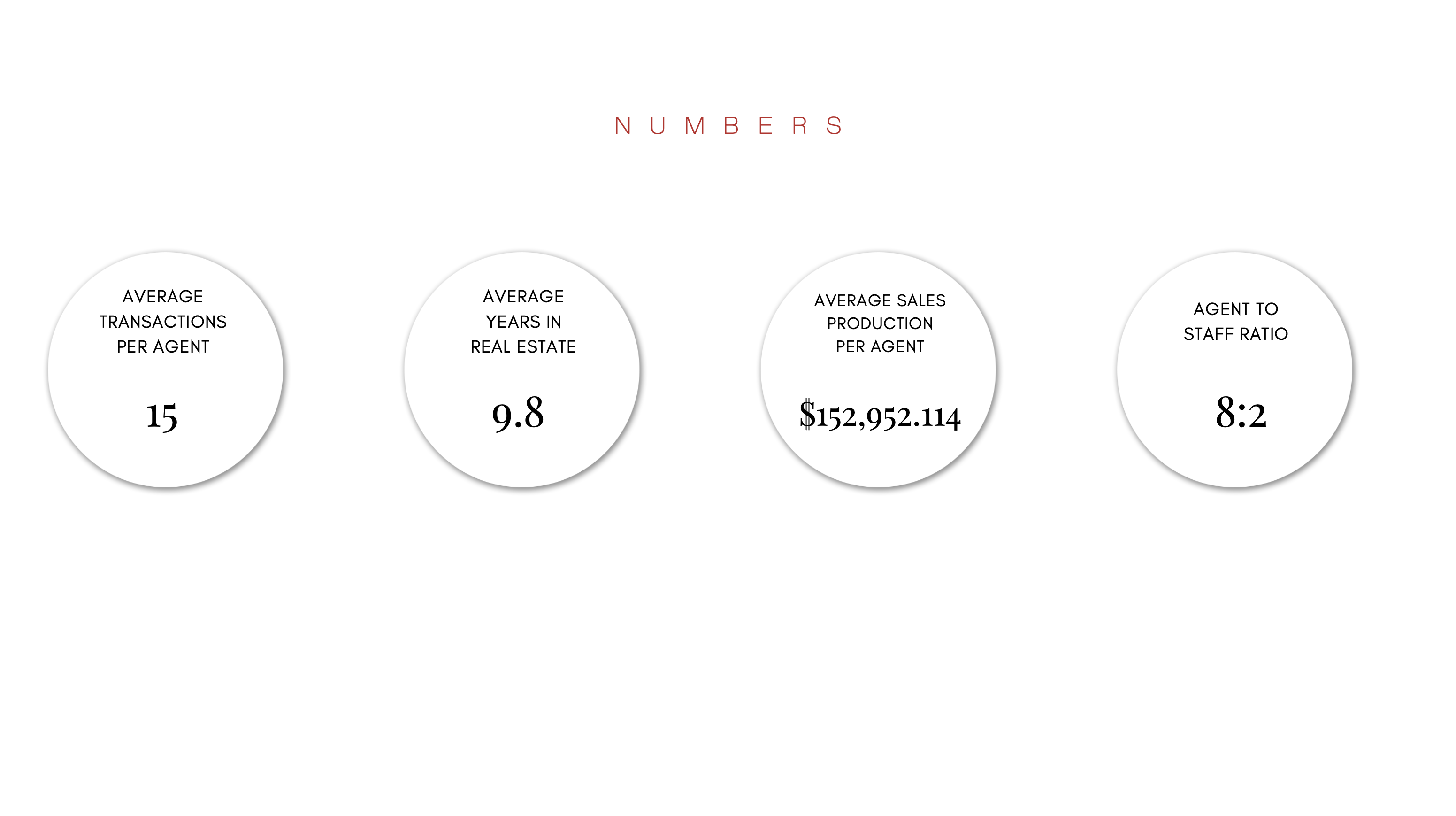 If you think you'd be a good fit on our team, schedule a time to meet with us!
"Working at TDT Realtors has been the best experience. Liz and her hands-on approach has been a game changer for me. I love having a mentor that is available to me and has the amount of experience she has."
by Stacia Hudson, Realtor®
"Elizabeth has helped me create actionable goals & hit milestones. She is always in a positive mood no matter how many questions had when I first came onboard. She helped me build my skill set and develop professionally from day one. I closed 20 homes my first year with TDT Realtors. Not only was it my first year with them but as a realtor."
by Stacia Hudson, Realtor®